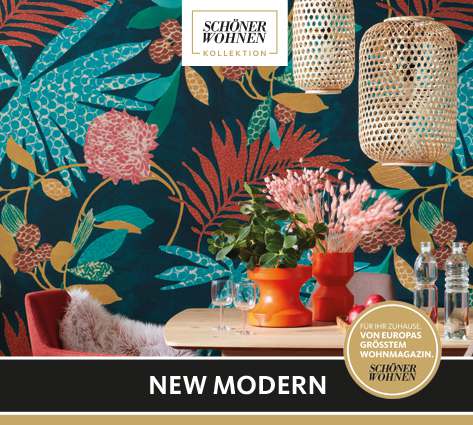 Fantastic motifs, modern patterns, graphic shapes, textile structures, shining effects and brilliant colours – with everything that the new SCHÖNER WOHNEN Collection has to offer in the way of wallcoverings, it would be a real shame if you left your walls white. Wallcoverings clothe our walls, creating all sorts of different moods. You decide whether you want your own four walls to look elegantly classic, subtly harmonious or extravagantly showy. We provide the patterns, colours and structures to suit the way you live. And by the way: With wallcoverings, you can feel free to be fashionable, because modern non-woven wallcoverings mean that a change of scenery is quick and easy.
SCHÖNER WOHNEN can print magazines but not wallcoverings. That's why we've decided to work with a strong partner: the Marburg Wallpaper Factory. This family-owned company has been developing and producing innovative wallcoverings for 175 years, constantly setting new trends and rightly gaining a reputation as Europe's most famous wallcoverings manufacturer. Felix Diener, marburg's Art Director, has worked with Kirstin Ollech, Creative Director for the SCHÖNER WOHNEN collection, to produce the first joint wallcoverings collection. It combines fashion with tradition and blends perfectly with a huge range of furnishing styles. So let's get going and raise the curtain on the new "fashion walls"!
Contour lines on a walker's map, drifting sands, waves in the ocean – the delicately organic lines in DUNA stimulate the imagination and decorate walls in a way that can be elegant or creative, depending on the colour and contrast. Matt-shine effects are a constant surprise viewed from different angles. With this relaxed all-over motif, you can literally spend hours gazing at the wall.

Back to the future: Art deco designs are totally on trend at the moment. LUCE is an homage to the decorative arts of the 1920s, but with a modern twist. The graphic lines form a little radial pattern that repeats regularly and plays tricks with the eyes – more so if the colours contrast, less with the harmoniously toning shades. But LUCE has a feeling of sensuality whichever variant you choose.
This wallcovering knows how to make a wall stand out. LUCE blends lines into a geometric shape so skilfully that it creates its own dynamic. Seen from a distance, the pattern radiates peace and harmony. This is because of the size of the motif and the subtly balanced colours. LUCE opens up completely new perspectives in a room and is bound to captivate everyone.
When the leaves are hibernating outside in the garden, BOTANIC simply carries on flowering inside. The realistically drawn tendril motif in beige, grey and green looks as if it comes from a herbarium. A little work of art that looks stunning over a large area and brings excitement and rich emotions into any modern living space. Our tip: The single-tone range NUVOLA is the perfect partner here, with colours that go superbly with BOTANIC.
The city of Carrara is famous for its white marble, obtained from the quarries nearby. The elegant natural stone has been a popular wall covering for centuries and, with its timeless beauty, also adorns Mies van der Rohe's Barcelona Pavilion in a coloured variant. And now this elegant stone is now available as a roll. We have printed the fine calcium veins of the marble onto a non-woven wallcovering, in four colours from light to dark. Our CARRARA wallcovering instantly adorns any wall with this elegant material, which is a true style icon.
Who dares wins! This expressive wallcovering brings the jungle trend into the house and transforms your home into a place full of inspiration. EXOTIC takes the viewer on a journey into the tropics. This wallcovering is truly multi-talented: In the rich, strongly coloured variant, it is brilliantly eye-catching in any space. In the more muted shades, it takes a step back, forming the exotic backdrop to more streamlined, warmer furnishings.
Everyone dreams of Paradise, the Garden of Eden. We don't know where it is. But in our imagination, it's full of greenery and blossoms. Traditional garden motifs are fashionable just now. And we like to add a little spice to our homes with a touch of the exotic. In EDEN, our garden miracle, XXL-size blossoms and leaves in the most gorgeous colours run riot across a textile background. We have digitally printed the glorious colours and fabric structure onto a non-woven background. Too bright? The joyous feel of EDEN is also expressed in more neutral shades.
Irregular triangles on a textile structure come together in TRIANGOLO to create a graphic and dynamic pattern that plays skilfully with two colours. In muted shades, this wallcovering brings a feeling of peace to a room; in stronger colours, it adds wonderful vitality. Depending on the viewpoint, the motif is created through the colour contrast or appears as a matt-shine effect. The textile structure and wide range of colours in single-tone TESSILE can be combined with TRIANGOLO in alternating rolls or on alternating walls.
In SILHOUETTE, strips of colour overlaid in subtle shades create constantly shifting colour areas and outlines that are powerful at times or pale at others. It's like looking into a kaleidoscope. An exciting pattern, with new associations appearing each time the viewpoint changes. The colours are harmoniously matched to each other, which means that the dynamic stripes never look too busy.
Block stripes are a classic. In LANE, we combine the wide stripes alternately with narrower lines in toning shades and with a textile structure. The classic design is given a facelift, adding colour, patterning and structure to your walls. The TESSILE range picks up the colours and textile structure of LANE. Single tones and stripes can be combined just as you like.
With BOUQUET, you're the one who decides how brightly coloured the walls in your home should be. The overpaintingwallcovering features luxuriant blossoms, densely packed and as a neutral relief. After applying, you bring the all-over design to life with paint and a brush, in the colour that best suits you and your furnishings. The advantage? Youalwayssettheright tone.
The wallcoverings in the "Tessile" single-tone series are masters of transformation. Seen from a distance, the surfaces look monochrome, thus providing the ideal backdrop to any interior. Close up, they reveal a textile finish, like coarse linen, with shades of light and dark and a delicately worked structure. Their subtle, adaptable colour combinations – mostly in light, livable shades – will harmonise with everyconceivablecolourconcept.