Cool and casual, but at the same time glamorous and exciting – this distinguishes the City Glam collection. The basis of nearly all its wallpapers is a concrete fabric that shows well dosed weathering. However, it sparkles and shimmers thanks to these small scrapes and defects. Thus, the vintage charm of past epochs lends a magic moment within your own four walls.
The collection has four main designs:
A damask theme, which opens all doors to a splendidly fashionable living room design, but which also can be a wonderful stage for a moderate style of furnishing.
A graphic design, which thanks to its strong structure ensures ease and uniformity on the wall.
A strip – for years indispensable in interior architecture. Thanks to its unusual structure – two wide lines and one slim line – it lends a room a very unique dynamic.
A realistically made leaf motif, with a visibly delicate impression attached to the concrete fabric. This combination of opposites forms the basis for a very special atmosphere within your own four walls.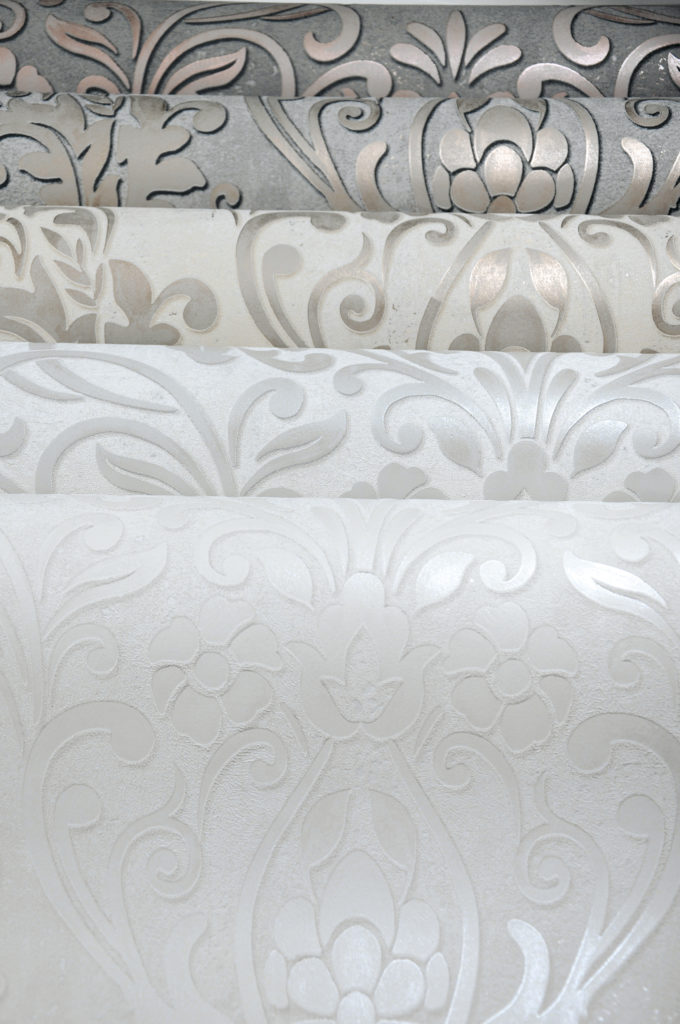 All designs are highlighted with a shadow, which allows them to appear three-dimensional and lends the wallpapered walls depth and structure. Altogether, all play with matte-glossy effects coordinated with one another exactly. City Glam is completed by two digital prints, likewise in a vintage concrete look. The secret star of the collection, however, is a study in linen structure, which among other things is offered in the trendy colours of rose gold and platinum.
Special technical characteristics:
All the wallcoverings in the City Glam collection are hot embossed. Temperatures of 200 to 220°C are reached in the "gelling dryer" in which the dyes are heated. Fine structures are then incorporated with a water-cooled steel roller. No other printing process can create precise lines and patterns of this type. The wallcoverings made in this way are also extremely robust.