WALLPAPER TRENDS 2023 FROM MARBURG
On this page we present the current wallpaper trends 2023. No matter if you are looking for wallpaper ideas or want to have the best novelties of 2023, from bedroom wallpapers to living room wallpapers, from wallpapers with textile optics to wallpapers with concrete optics. – You will find the right wallpaper online!
In this year's wallpaper trends and novelties, we find strong and elegant colours that give our rooms a homely and cosy look. Floral patterns, strong concrete looks and subtle textile looks are the focus of 2023. As part of the wallpaper trends 2023, we present the collections City Glow, Kumano, Zellige and Spirit of Jungle. You can find all wallpapers in our wallpaper search section.
But which wallpapers fit in my bedroom or living room?
Which wallpapers will be trending in 2023?
In 2023, wallpaper trends with concrete looks will be a hot topic. Concrete looks are a popular choice for decorators who want to achieve a modern look. Concrete-look wallpapers are an easy way to create a cool and appealing atmosphere. They are stylish and ultra-modern, and they go with almost any interior. Concrete look wallpapers are a powerful choice for anyone looking to spice up their home. Although concrete looks are a versatile choice, they have a unique, industrial look that will fit perfectly into any room. Concrete-look wallpapers will be a key part of wallpaper trends in 2023.
Wallpaper Trends 2023 from marburg - K U M A N O
Living room ideas 2023 with Kumano
The highly contemporary Japandi style combines Nordic cosiness with Japanese clarity. The designs can be combined with each other and blend perfectly. The two-tone metal effect is considered a special feature and radiates prudent elegance. The warm colours underline the cosiness of any room and give us a good feeling.
The collection features the following designs:
A 3D embossed leaf look which are homely & matt. Two of the designs have a two-tone metallic effect.
A misty haze in shiny arches on a coarse textile background.
The crane as a digital print motif. In Japan, it is considered a sign of a long and fulfilled life.
Textile as well as stone-like plain wallpapers to perfectly round off the designs.
The subtle colour scheme in combination with the textile designs is the focus of the 2023 trend!
Wallpaper Trends 2023 from marburg - Zellige
Bathroom Ideas 2023 from the Zellige Collection
Zellige is a handmade natural clay tile from the Fez region of Morocco. The clay is kneaded with water, hand shaped with unrefined clay, air dried and kiln fired. The glaze is applied to the raw tile in several shimmering semi-transparent shades. This creates the pearly, metallic, volcanic or opaque shades. The characteristic features of Zellige are the irregular surfaces, the colour nuances and the depth of the colour. Each Zellige tile is unique. These unique pieces are emblematic of Moroccan architecture.
The 2023 wallpaper collection is almost divided into two parts. Calm, homely tones alternate with heavy, dark nuances. What they have in common is transience. They are not colours that appear youthful and fresh – on the contrary. They tell of past times full of wisdom. Metallic colours hint at splendour and luxury.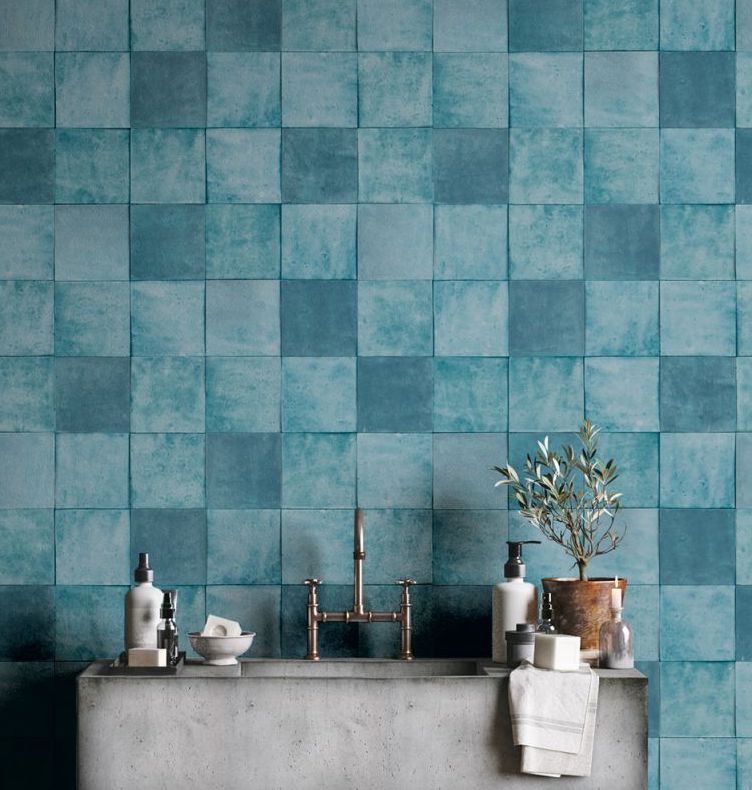 Spirit of Jungle Wallpapers
Floral wallpapers will be trendy again in 2023?
2023 is a year when floral wallpapers are considered one of the hottest wallpaper trends. Although they have been a popular part of interior design for a long time, they are experiencing a revival this year. Floral wallpapers are a simple and effective way to brighten up a room. Available in a variety of colours, patterns and styles, they add a bright and cheerful feel to a room. They are also an easy way to personalise a room and add individual character. 2023 is a year when floral wallpapers are considered one of the hottest wallpaper trends.
Wallpapers are an important part of the modern interior and have recently produced some interesting trends. A special focus is on floral wallpapers and jungle motifs. Floral wallpapers are a timeless classic that conjure up a unique atmosphere in any room. They create a natural and cheerful ambience that makes every room shine. Jungle motifs are just as popular and offer a modern touch. Whether you want to create a tropical paradise or an exotic splendour, jungle motif wallpapers are a unique way to add a special flair to your rooms. The two trends offer a perfect combination of modern and classic elements and are a must for anyone who wants to transform their home into a true paradise.